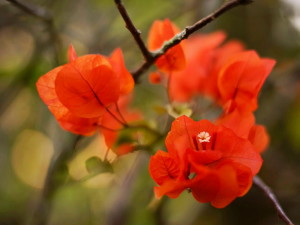 I spend a lot of time here at KCS. It was the end of the day and I went about to look for some color warmth perhaps to make up for today's chilly temperatures (was 70°). I ended up heading to the bougainvillea shrub near the mailboxes.
Here the camera angle was purposefully positioned to find more interesting out-of-focus areas and balancing the main subject – the white flower within the orange bougainvillea floral leaves. The time of day was about when the sun began setting behind the Ko'olau mountains in Kahalu'u. Shot wide open to maximize bokeh at  f/1.4.
The transfer idea I believe I learned today was that in your own composition, focus is not only important on the main subject but that the background also matters – perhaps equally so. Imagine applying the same idea to everything one does.
Tech: a7r, 50mm asph lux, hawks adapter (links are to Amazon and Ebay). PP via Picture Perfect phone app.